Cash shops and micro-transactions are nothing new, especially in online games. But when I logged into Farmville on Facebook today, my initial reaction was "Have they lost their minds?" as I saw a new limited-time item introduced... the Unwithering Ring, which can only be gifted to other players, not bought for yourself, and costs OVER $40.
I'm no stranger to in-game purchases after playing Free Realms off and on for almost a year now... everything from outfits, to weapons, to pets. I was shocked enough to see an outfit in that game last summer with a pricetag bearing the equivalent of $10 USD, but now that has been dwarfed in comparison by this ring.
After a bit more thinking, I can't decide if I think the game designers over at Zynga have lost their minds, or are sheer geniuses. There are angry people over in the Farmville forums making complaints and threats about the ridiculously overpriced item for sure, but really they have nothing to lose by offering it. Farmville is on the forefront of the "paying money for nothing but pixels" forefront, especially considering that it isn't a full game but simply a Facebook app. It's rather fun to watch as new markets are being pushed and tested to see what people's spending limits are. One thing I'm fairly sure of... they're bound to sell more than just a couple of them.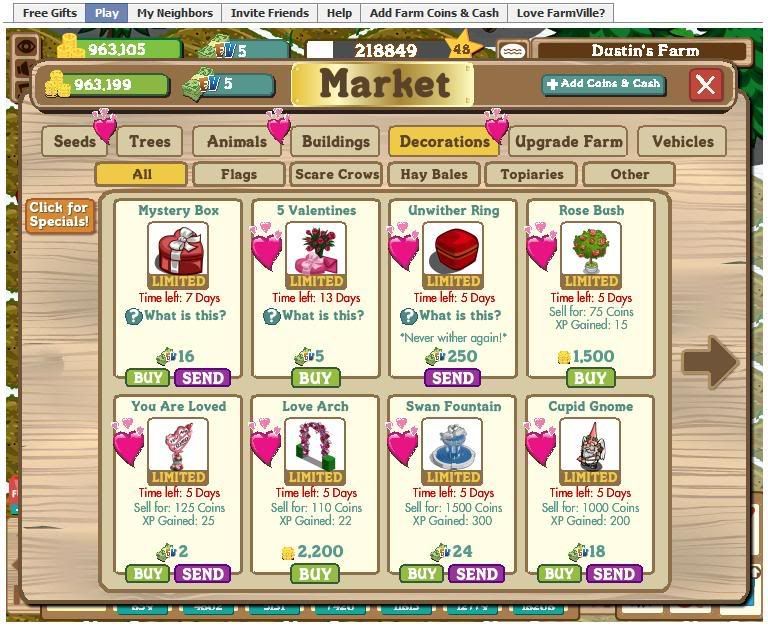 Posted by Yarcofin
Wed, 10 Feb 2010 17:44:44
(comments: 10)