Do you want $50 free? Sure!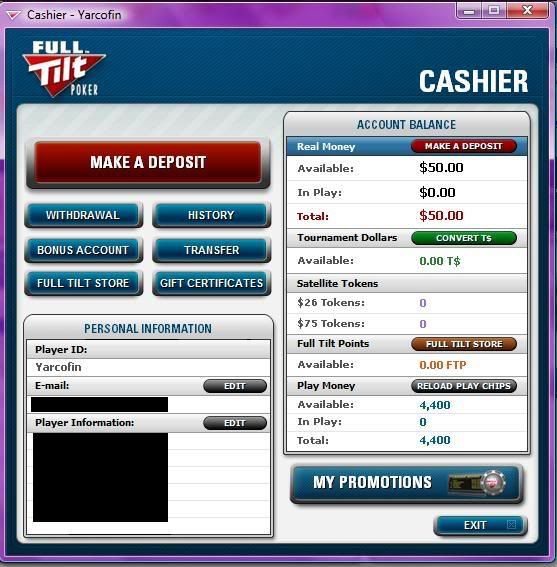 So if you've been following my activities lately, you know that I got back into playing poker and have been trying to slowly raise myself from starting with literally $0.00 in my account (not even my real personal info), to something great. After winning a few freeroll tournaments and starting to play some cash tables, and getting some credit from Pokerstars, I'm sitting with $5.66 in my account. Lately I've been bouncing back and forth from $3-$5, wondering if I'll ever be able to pull it off with such a small bankroll. Basically I've got two decent buy-ins for $0.01/$0.02 tables.
Well, today I found quite a break in the form of Pokerstrategy.com. Basically this site has an agreement with most of the large poker websites on the internet. In simple terms, they have a set of lessons on poker, and a quiz. You pass the quiz (I'm guessing with 100%, because I failed the first time), and you get $50 cash + $100 bonus deposited onto the poker site of your choice* (not quite, but close enough.) So I took the quiz once, failed, took it again after skimming their material, passed. I signed up at a new poker site (I can't make another account with Pokerstars since I already have one, and you have to sign up with their referral bonus.)
So you're probably wondering how they get their money... it seemed like a scam at first to me as well, but I did some research before signing up. Basically, they have agreements with all the major poker sites, they are acting as a referrer. Pokerstrategy benefits because they get a referral bonus and also a portion of the rake (a % of the winning pot the poker site takes each hand). The poker site benefits because they are getting quality players on the site, and they also get a portion of the rake for having you play there. The better a player you are, the more all three parties (including yourself) benefit. The only possible downside, not really, is that in order to withdraw money from your account, you have to clear your bonus amount first. So if you signed up with $50+$100 bonus, you have to make $100 on top of your starting balance before you are allowed to withdraw. Actually I think the withdrawl requirement is playing 1000 hands, but same thing. Makes sense I guess, or everyone would just sign up and get the cheques mailed to themself immediately.
So here's what you have to do to get $50 free:
- Read their articles (The first one includes a lesson on how to play, in case you know nothing about poker but want to start, in which case I'd start playing without real money first once you get your account.)
- Pass their quiz
- Choose your poker site, and go through all the sign-up.
- You might have to scan ID, because they randomly verify to make sure that people aren't signing up more than once and taking advantage of the system... fair enough when you're giving out free money. I got picked to have to send in my ID. However, they let you black out all sensitive information... I scanned my driver's liscence and blacked out my photo, card #, all the bar codes and stuff... basically I only left my name, address, and DOB that they need to verify is the same information as you put for your poker account. Actually I didn't think they were going to take it, because it actually looks photoshopped to me with all the editing I did :P.
Their site says it can take two business days or more for the process, but I got mine a lot quicker than that. Yesterday I passed the quiz and filled out my info by about 2 pm, got an email requesting ID verification and sent my stuff away. This morning at 10 AM I got another email saying that I have been accepted, and $50 will be transferred into my account within 6 hours (It actually only took 1 hour), and also that I will get an additional $50 bonus within 120 days when playing.
I could give a referral link to get people to sign up for the site, but out of the idea of trying to be honest and promote integrity and disclosure here, I won't. I'll just tell you what sites I recommend you play on, once you pass the quiz. Please note there is still some risk this is some kind of scam. I can verify that you receive the $50 in your account, but I haven't tried to withdraw yet obviously. Making money is the easy part, trying to withdraw might be a bit tougher.
Anyway...
You have quite a few options of where you can deposit your bonus, but I only recommend two:Pokerstars
-This is where I play poker, but unfortunately since I already have an account, I couldn't make another one to deposit again. Hands down, the best poker site on the internet. Pros on this site include Greg Raymer, Chris Moneymaker, Joe Hachem, Barry Greenstein, and Daniel Negreanu, and even Jason Alexander (actor from Seinfeld.)
Full Tilt Poker
-I made my new account here, since I can't on pokerstars. If I get up to a few hundred dollars, I might withdraw it all and put it into Pokerstars instead. Credible site, found their withdrawl options within 10 seconds of coming on to their homepage. Decent software, not as good as Pokerstars, especially with filtering games. They have goofy little avatars for players which kind of takes away from credibility, but you can turn it off. They have plenty of their own stars, including Gus Hansen, Howard Lederer, Phil Ivey, Chris Ferguson, Phil Gordon (who is the author of the only poker book I own), and even Bruce Buffer (boxing announcer.)
All of the sites the bonus applies to will give you at least $50 starting cash, plus a bonus. The bonus for PS and FTP is only $50 instead of $100 for the ones shown below, but I think the assurance is worth more than the potential extra $50.
Here are your other options, and why I wouldn't choose them:
Titan Poker - Never heard of them. They are the most heavily promoted site by Pokerstrategy.com. They have no withdrawl page anywhere on their site, and I scoured it for about 10 minutes. Just seems like a scam.
PartyPoker - Well established site, but no clearly available withdrawl options.
Mansion Poker - Similar things on their page to Titan that look like adware, no clear withdrawl page.
888.com - Online casino rather than poker room, immediately takes away credibility. You are confronted by a popup to download as soon as you get on the site.
Posted by Yarcofin
Fri, 06 Mar 2009 16:30:53
(comments: 4)